Great News!
Several recognized at 2022 Cytation Awards Ceremony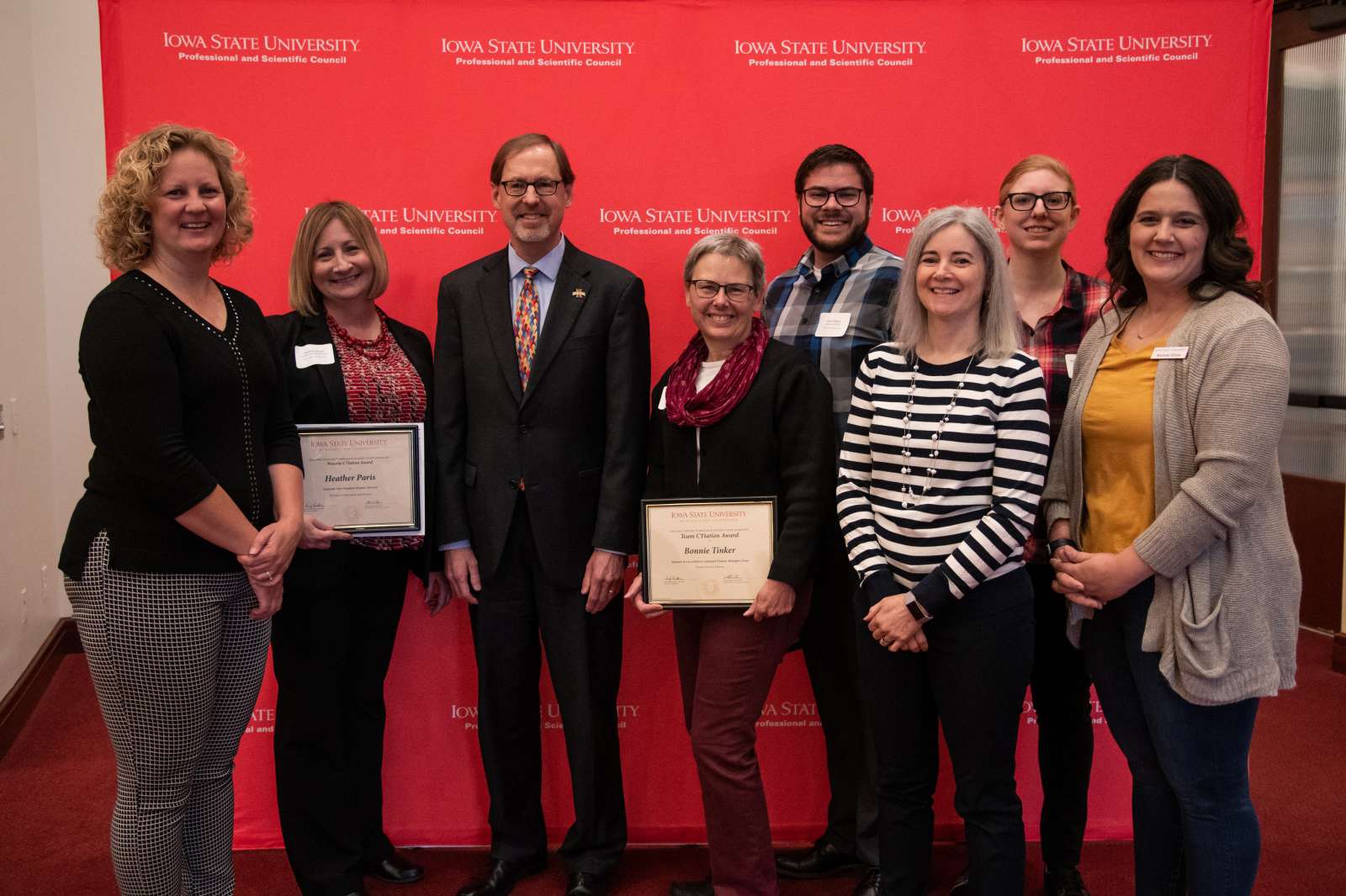 Big kudos to Finance Service Delivery. We had several folks recognized with Cytation Awards. Stephanie Schoeller received an individual Cytation Award. Our Finance Service Delivery Assistant Finance Managers/Operations team received a Cytation Team Award and Heather Paris is the recipient of the 2021 Iowa State University Professional and Scientific Woodin CYtation Award!

The Woodin Award is a top honor for one Iowa State University Professional and Scientific (P&S) employee, who: 1) has demonstrated exemplary service to P&S employees, 2) has demonstrated a willingness to go above and beyond, 3) has a great attitude, 4) who has a true compassion for others and treats everyone with respect, and 5) has leadership, innovation and initiative. The award is in remembrance of the late Dan Woodin, who was an information systems leader at ISU, a four-term Professional and Scientific Council president, and an Ames school board member. He made a difference and lived by the following statement: "Live today, taking advantage of daily opportunities that will come your way, and live each day with integrity.
TRAVEL UPDATE:  Beginning January 1, 2022, all in-state lodging providers must complete the Iowa Department of Public Safety's Human Trafficking Prevention Training Certification to receive public funds for state employee lodging, conferences, meetings, banquets, or any state-funded event.
          Human Trafficking Prevention Training Certification Information 
          Human Trafficking Prevention FAQ
| | |
| --- | --- |
| 2021 CyThx Honorees:  FSD Employees recognized by #CyThx are Jane Blair, Suzy Blunk-Killinger, Joby Clauson, Marce Bruhn, Megan Rogers, and Jessie Radke. |   |
| FORT Dashboard Video:  A new Workday dashboard called ISU Financial Officers Reports and Tasks (FORT) is now available, designed specifically for cost center managers (CCMs) and grants coordinators.  WorkCyte Digest Article |   |
| Iowa State News Service |   |
| Moving Forward:  Latest information on COVID-19 policies and procedures  |   |
| Inside Iowa State:  This online faculty-staff newspaper is published weekly year-round, with interruptions for breaks in the academic calendar. |   |
| ISU Employee Announcements |   |
| Iowa State University Fact Book: a compilation of basic information about the university, including its history, students, staff, departments, programs, and facilities.  |   |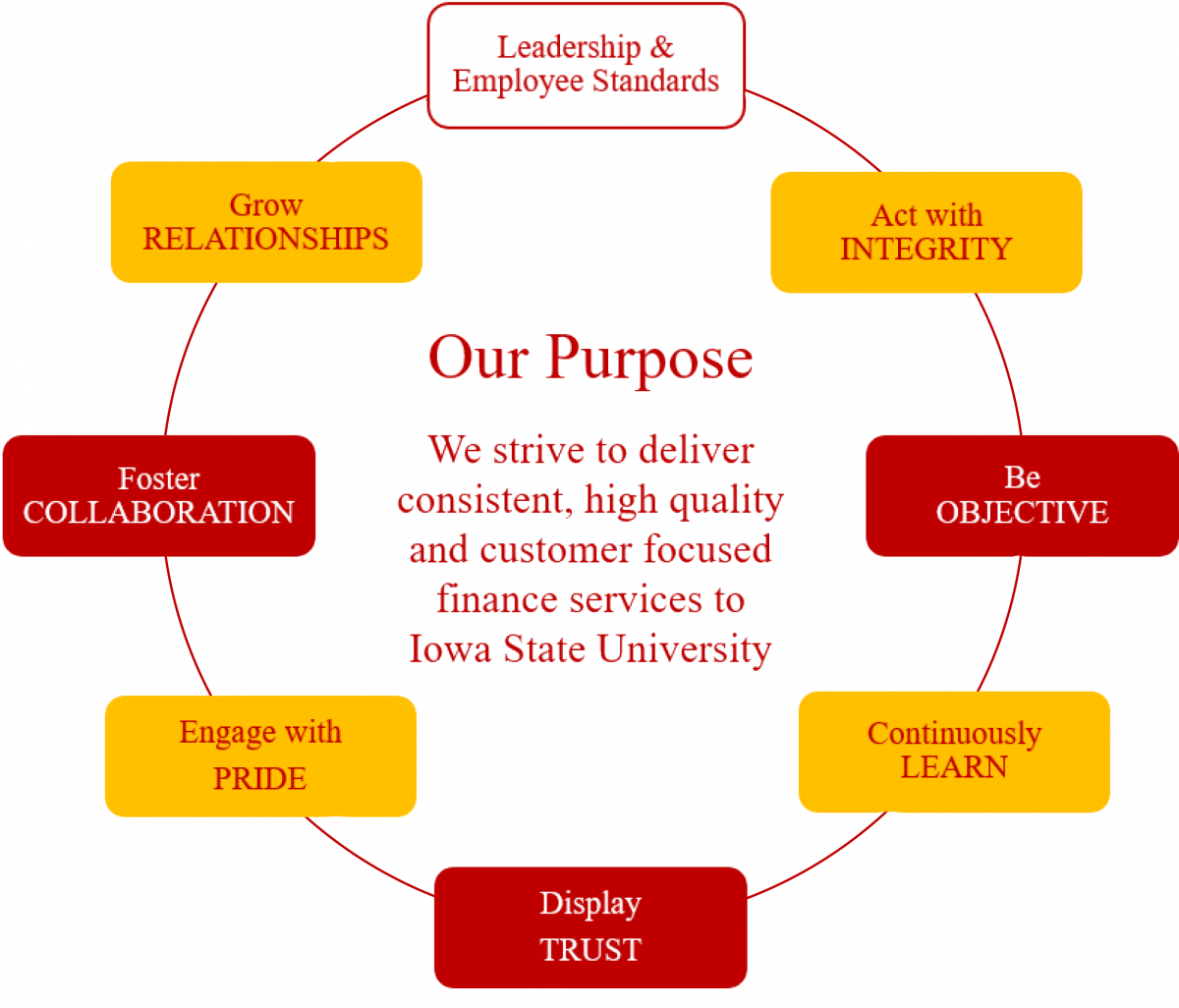 Reviews
"This team rocks-- I've worked at multiple universities and I find ISU staff to be more prompt and helpful! Thank you :)" 
- March  2022
"Could not have been better! A million thanks." 

- March  2022

"Just a fantastic, efficient experience with mission accomplished.  Thank you!" 

- March  2022

"I think the Finance ISD process for travel expenses is a breeze and I love it!" 

- March  2022

"I've had several instances of working with ISD Finance lately.  They are always very courteous and helpful." 

- March  2022

"Went above and beyond to investigate a solution to my challenge. Thank you!" 

- February  2022

"Excellent! Thank you - I appreciate all of your expertise and help!" 

- February  2022

"Finance delivery team members are always so efficient and courteous! This interaction was no different! Thank you for being so great to work with." 

- February  2022

"I like the way the process is automated from the beginning and that I get timely emails. I know what is going on and I don't have to ponder about it anymore. Thank you.  Staff were prompt and courteous." 

- February  2022

"I really appreciate being able to send these items to a finance delivery specialist as I don't feel confident entering them in Workday myself." 

- February  2022