Great News!
Finance Service Delivery model receives the CACUBO Best Practices Award
Iowa State's Finance Service Delivery teams model received a second place award in the Central Association of College and University Business Officers' 2022 Best Practices recognition program. The program recognizes innovative approaches to addressing challenges facing higher education business operations. Customer service surveys from the third quarter of FY22, sent to finance delivery users following requests submitted, indicated 95% of respondents were satisfied and 98% said their concern was accurately addressed. And a survey of employees working in finance delivery returned an average engagement score of 4.22 (on a five-point scale).
TRAVEL UPDATE:  Beginning January 1, 2022, all in-state lodging providers must complete the Iowa Department of Public Safety's Human Trafficking Prevention Training Certification to receive public funds for state employee lodging, conferences, meetings, banquets, or any state-funded event.
          Human Trafficking Prevention Training Certification Information 
          Human Trafficking Prevention FAQ
| | |
| --- | --- |
| 2021 CyThx Honorees:  FSD Employees recognized by #CyThx are Jane Blair, Suzy Blunk-Killinger, Joby Clauson, Marce Bruhn, Megan Rogers, and Jessie Radke. |   |
| FORT Dashboard Video:  A new Workday dashboard called ISU Financial Officers Reports and Tasks (FORT) is now available, designed specifically for cost center managers (CCMs) and grants coordinators.  WorkCyte Digest Article |   |
| Iowa State News Service |   |
| Moving Forward:  Latest information on COVID-19 policies and procedures  |   |
| Inside Iowa State:  This online faculty-staff newspaper is published weekly year-round, with interruptions for breaks in the academic calendar. |   |
| ISU Employee Announcements |   |
| Iowa State University Fact Book: a compilation of basic information about the university, including its history, students, staff, departments, programs, and facilities.  |   |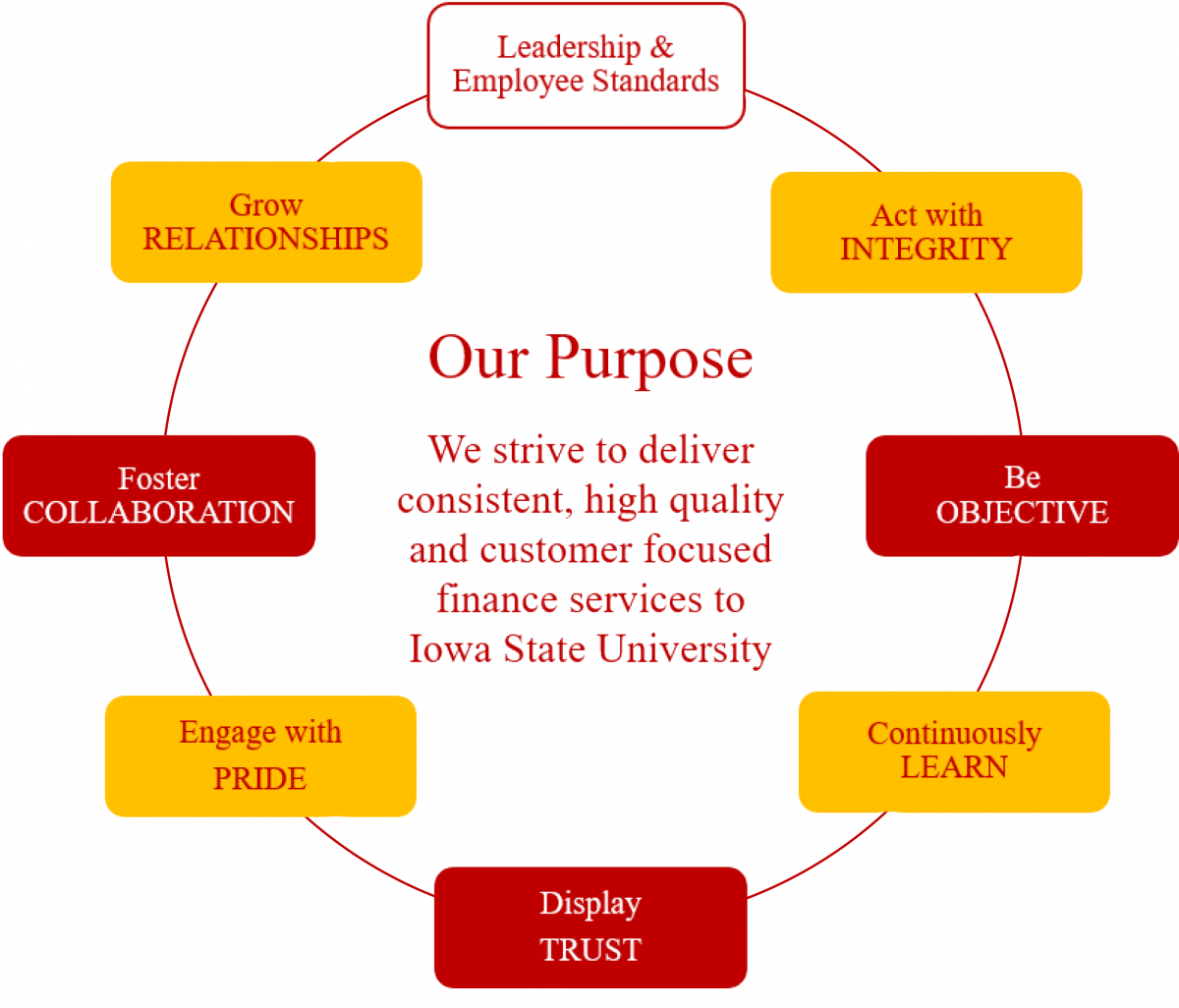 Reviews
"I've come to expect excellent and prompt service from finance delivery and am never disappointed." 
- May 2023
"Each time I utilize the services of Finance Delivery, I am greeting with efficiency and courteous service. I am thankful for their knowledge and support. Many thanks!!" 
- May 2023
"I really appreciate the team creating expense reports when requested. It is so helpful because it would take me much longer to navigate the process if I had to enter each one." 
- May 2023
"I truly appreciate the patience and grace with which Finance Delivery folks respond to "off the wall" questions from a finance nitwit like me. They point me where I can get data and how to interpret them. I can never underscore enough the value of their important roles. My deepest appreciation." 
- May 2023
"Finance delivery has been very helpful. My questions get answered and items processed in a timely manner." 
- May 2023
"Finance delivery is ALWAYS - timely, courteous and so very helpful! The speed with which they can handle tasks is AMAZING! Many thanks for all the support, all the time! " 
- April 2023
"Finance Delivery staff is always helpful. I've had a lot of questions recently about non-catalog requisitioning, and they've provided clear instructions. I love that they prepare workday tasks! It ensures that they are submitted accurately the very first time." 
- April 2023
"The Team provided me great information and walked me through the reimbursement process very patiently and professionally." 
- April 2023
"It's always a pleasure dealing with the Finance Delivery Team. Most places I've worked have not had finance delivery folks as responsive and helpful as the team here at ISU. You guys rock!" 
- April 2023
"My question was answered accurately and ISU Finance Delivery is always very courteous. Very happy!" 
- April 2023